True confession: I didn't even know where Patagonia South America was when I first agreed to go on the trip. Then the shellshock of the 26-hour journey to get there set in – flights to Patagonia are not that flexible. Then, the fact that I was embarking on a solo travel trip to Patagonia Chile kicked in so be sure to read my article at on the Lonely Planet Chile page. But all that quickly gave way to excitement when I realized all that the destination had to offer. There's a lot to consider when planning a trip to the Patagonia mountains.
Where is Patagonia
As I wrote in for my article on Orbitz, Patagonia is the Southernmost point in South America, straddling Argentina and Chile against the backdrop of the Andes Mountains. The region attracts outdoor enthusiasts for its diverse terrain, foodies for its hearty and soulful cuisine, and nature lovers who appreciate the flora and fauna. Hiking in Patagonia is a bucket list item for many. Its distance and geography might make it seem like a difficult trip, but with the right planning it doesn't have to be. Once I arrived and met the other two writers on the trip, I soon learned that this region is very popular for travelers coming off an Antarctic cruise (added that to my list!).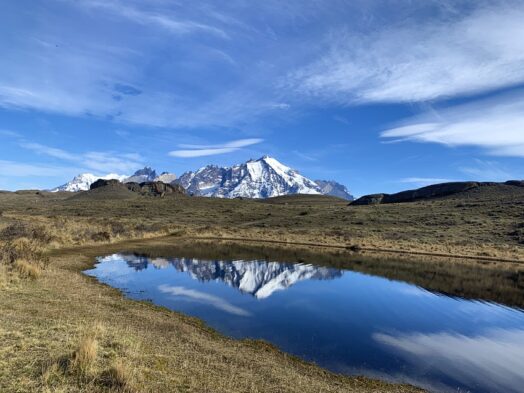 Packing when planning a trip to Patagonia
Learning that I would potentially be experiencing four seasons in just one week, my OCD packing kicked into gear – literally. I mean, I'm a Florida girl, I had no gear! Read about what I packed here. But it gave me a great excuse to invest in some new fashionable, hiking attire (is that an oxymoron?). Be sure to research Patagonia Chile weather before you go, and especially Torres del Paine national park weather before you go. Spend some time researching the different packing strategies out there. And plan to layer, layer, layer.
Where to stay when planning a trip to Patagonia
I was most excited about my accommodations at Patagonia Camp, one of the few Patagonia Chile resort destinations. I was told I'd be glamping (upscale camping) but the accommodations were much more luxurious that I ever expected. I mean, if the Four Seasons offered yurt accommodations, these would be them! Initially, I was reminded of that time I stayed in a Bedouin tent in Jordan and saw the biggest spider of my life, but once I settled in, the level of comfort and luxury gave me peace of mind. If you're planning a trip to Patagonia, this is the place to stay.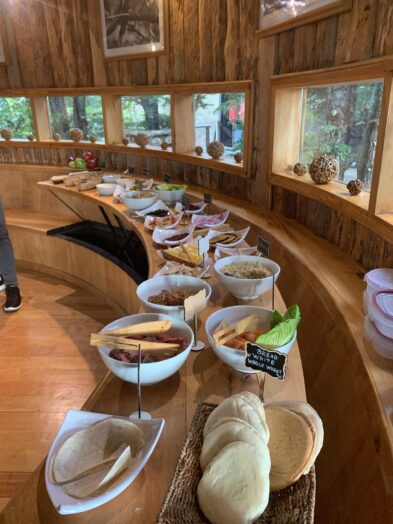 There's nothing like laying in your bed at night, in one of the world's most remote locations (that 26-hour journey entailed a 6-hour car ride to the bottom of the continent across vast areas of nothingness), and staring up at the stars at night through the glass window in the top of yurt. Magical! Each yurt (there are only 20 of them) is spaced out so you really do feel like you're camping in the wilderness all alone. My yurt had a king-sized bed but there are also a couple of adjoining yurts for families. And a few of them even have a hot tub on the outside deck. I failed to mention the garden tub that came in handy after those chilly days of hiking. Sustainability is important at the resort so the amenities are all biodegradable so that the reclaimed water can be returned to nature (so leave your shampoo and soap at home). It was truly one of the coolest experiences I've ever had in terms of accommodations. There are a few other Patagonia Chile hotels in the region, and also a few hotels in Puerto Natales, a nearby town.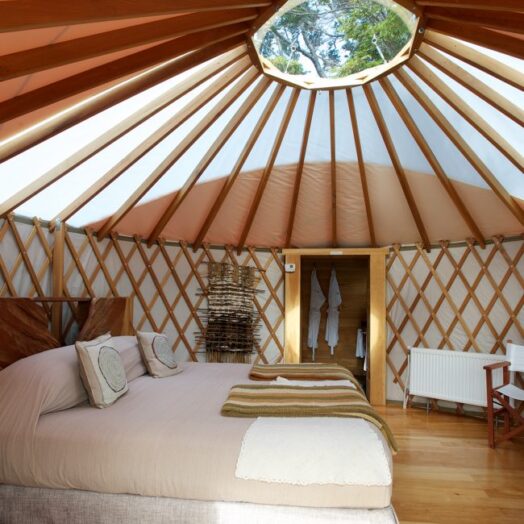 What to do in Patagonia
The resort is just on the outskirts of Torres del Paine National Park. One of the main reasons travelers choose Patagonia Camp is for the guided excursions hosted by local guides. Each evening, guests of the resort gather with the guides to talk about the plans for the next day, often dictated by weather followed by skill level. Hiking is probably the most popular activity as the national parks offers dozens of trails, each offering a different perspective of the region. There's so much to learn about the history, topography, and climate of the region and local guides offer a well-rounded education.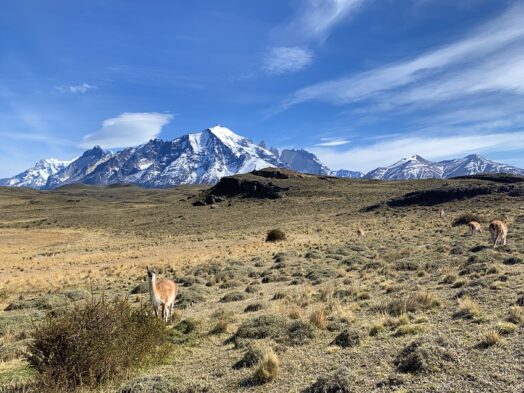 The first day, we set out for the Flora and Fauna Trail after we received the requisite talk about what to do if you encounter a puma. Seeing the pumas is considered a good day on the trail and we got lucky! Our guide shushed our group, pulled out her binoculars, and spotted two pumas in the distance chasing a pack of guanacos. Condors circled overhead with their majestic 12-foot wingspan. We saw remnants of where guanacos (South America's version of the llama) dug pits in the ground to bathe themselves in the sand.
The trail was wide open and flat, not as challenging as the W Trail, which some in our group chose to do but I knew my mid-life knees would not tolerate. But the W Trail is considered the pinnacle of a Patagonian experience.
Each day was a new adventure. Hiking in Torres del Paine National Park, trekking, visiting waterfalls, and simply relaxing at the camp. One day, I tagged along with a guide who introduced me to maté, South America's version of an energy drink. She knew I had a fascination with gauchos (the Chilean cowboys), so she took me to a nearby puesto (a tiny cabin where gauchos typically shelter) and we shared a gourd of maté.
The final day of our trip, a bittersweet one (not to mention the dreaded 24-hour journey home), was a bucket list experience for sure. We walked along the shores of Lake Grey to see the ice fields and icebergs. I never knew how an iceberg could make me so happy.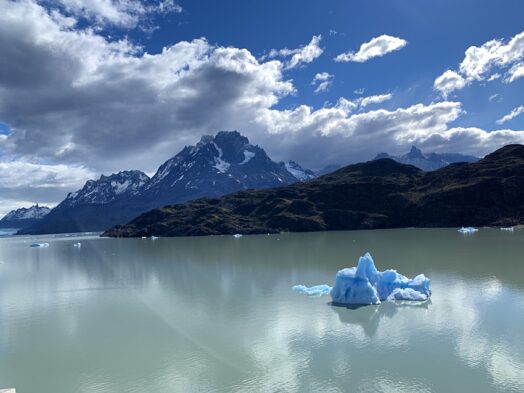 If you're curious about or planning a trip to Patagonia, here are a few more resources for you. You'll want to decide if you want to visit Patagonia Chile or Argentina.
Patagonia tourism including the best time to visit Patagonia: https://southamericatourism.com/destination/patagonia/
Travel tips and highlights: https://www.lonelyplanet.com/argentina/patagonia
Top places to visit in Patagonia: https://www.rei.com/blog/travel/how-to-visit-explore-patagonia
How to get there: https://www.worldlyadventurer.com/how-to-get-to-patagonia/
Let me know if you go! And send me a photo of an iceberg!